Addressing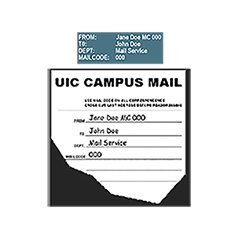 Addressing campus mail properly facilitates the sorting and ensures timely delivery of the mail. Proper format for addressing campus mail includes:  FROM, TO, DEPT, MAILCODE.

When addressing campus mail to Urbana, please indicate clearly on the envelope that it is "Urbana mail."
Envelopes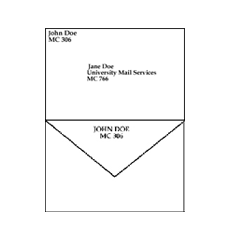 When sending campus mail, we recommend the use of official UIC Campus Mail envelopes. They can be purchased from UIC Office Supplies.

When not using campus envelopes, please use the same addressing format and include a clear indication of a return address on the envelope.
Campus Mail Criteria
UMS does not provide intercampus delivery of parcels or boxed items. Due to the limited capacity of the lock boxes, envelopes for campus mail delivery must meet the following criteria:
No larger than 12″ X 14″ envelope.
No thicker than 3/4″ to accommodate campus mail depository slots.
Campus mail thicker than 3/4″ and up to 2″ can be mailed by making special arrangements with UMS at (312) 996-2885
Items that exceed UMS criteria can be delivered/picked up by the Physical Plant at (312) 996-2834 or by a courier of your choice.
Mail Codes
All mail is sorted by a three-digit mail code. Mail codes are assigned to each department on campus, and they function as internal zip codes.  As part of the unit's official campus address, the mail code must be used in campus mail and on return addresses on U.S. mail.
To avoid delays of the mail, please include the mail code.  A listing of departments and mail codes can be found in the Staff Directory.
Delivery and Pickups
Campus mail is delivered and picked up from departments' mailbox locations twice each business day. Deliveries begin by 8:00am and are completed by 3:00pm. For additional information, regarding pick-up and delivery schedules, please call (312) 996-2885.
Incoming U.S. mail received from the United States Postal Service is delivered along with the campus mail.
Outbound U.S. mail collected from the campus mailboxes during the day is picked up by the U.S. Postal service daily.
Certified, registered, insured and express mail is delivered to a campus department's main office on the same day if received before noon.
Special arrangements are available for pickup of larger mailings (campus and/or outside mailings). Contact Mail Service at (312) 996-2885 for additional information.
Urbana mail is picked up from the University Mail Service daily. Urbana campus mail can be placed along with the UIC campus mail.
Internal Mailings
The University handles both addressed and non-addressed mailings. Addressed mailings of 50 pieces or more must be put in mail code order. For your convenience, we provide printed labels (for a nominal fee) from many different sorting lists from the UIC staff directory database (e.g., all female or all academic employees).
Non-addressed mailings are distributed through a "general distribution", in which a quantity of pieces is distributed to each department according to size.
There is no charge for delivering campus mail.  A charge is accessed for any preparatory work done.
Urbana-Champaign Mail
Mail can be sent to UIUC at no charge via the intercampus shuttle, which operates daily and provides next-day delivery, weather permitting.
UIUC mail can be placed with other mail in the departmental pickup location.
There are also UIUC mail depositories located in the lobbies of the Administrative Office Building, Alumni Hall, Marshfield Avenue Building, Pharmacy Building, Roosevelt Road Building, Science and Engineering Offices Building, and University Hall.  The pickup time for these locations is approximately 5:00 pm daily.
Follow the format for addressing UIC campus mail, and add URBANA before the mail code.
Other Campuses
Individually addressed mail to the University of Illinois at Springfield or to the Rockford, Peoria and Quad Cities campuses must be posted and sent through the U.S.Mail.
Mass mailings to the other campuses are sent in bulk for local distribution.
Personal Mail Policy
University Mail Service provides UIC departments with campus mail and other mailing services.
UMS is to be used for official university business only.
UMS is not funded to process or deliver personal mail items.
Personal mail items should not be addressed to a university address.
UMS will not deliver personal mail items.