First Class
Any mailable matter weighing 13 ounces or less may be sent first class. There are certain items that are restricted or deemed hazardous and are non-mailable. The following may not be sent first class:
Anything susceptible to damage or that may become harmful because of changes in temperature or atmospheric pressure, unless protected against the effects of such changes.
Flammable liquids and solids
Radioactive matter
Priority Mail
Any first-class mail weighing more than 13 ounces must be sent priority mail.
Any mail weighing under 13 ounces is the option of the sender to mail it priority.
Priority mail rates are based on zone and weight.
Certified Mail
Certified mail is available for first-class and priority mail only.
Certified mail also provides the customer with a mailing receipt.
No insurance is provided.
Registered Mail
Registered mail provides the sender with a receipt. Insurance is provided and included in the fee for items valued up to a maximum liability of $25,000.
Registered mail is available for first-class and priority mail only.
Insured Mail
Insured mail provides coverage for up to $5,000 for a lost, rifled, or damaged article.
Express Mail
Express mail provides next-day or second-day service to all official addresses (except P.O. Boxes) in the United States.
Express mail cannot exceed 70 pounds.
The following are express mail destination options:

Post office to post office
Post office to addressee
Express mail international service
International Mail
Through an arrangement with an international re-mail carrier, UMS provides delivery of international mail at a discount of up to 25% off USPS rates. Attach a Mailing Information Form to letters or packages to international addresses and forward them to UMS to take advantage of this discount. Below are the general guidelines for sending international mail.
Addressing International Mail
The entire right side of the envelope, package, or card should be reserved for addressing, postage, labels, etc.
Addresses must be printed in ink or typed. Pencil is unacceptable.
Addresses must be in English or include a line by line English translation.
When sending parcels, include the address on the inside of packages as well as the outside.
Self-mailers must be enclosed in an envelope for foreign delivery.
Mail may not be addressed to a person in one country "in care of" a person in another country.
The name of the addressee must appear on each mail piece.
The bottom line of the address must show only the country name, written in full and in capital letters.
Proper format for addressing international mail:
MR PETER PIPER
APARTADO 306
46807 PUERTO VALLARTA JALISCO
MEXICO
The sender's complete return address, including postal code and country origin, should appear in the upper left corner of the address side of the mail piece.
Customs Forms
Customs forms are required for dutiable (subject to import tax) letters, packages, dutiable printed matter, parcel post, and all small packages. Knowing what you are sending and where it is going will determine what needs to be declared for customs.
Mailability
All articles that are non-mailable in the United States are non-mailable through international mail.
There are also certain items that are mailable within the U.S. that are non-mailable within individual countries.
Non-mailable items include, but are not limited to:

Advertisements for motor vehicle master keys
Advertisements for abortion
Copyright violations
Fictitious material
Libelous material
Lottery material
Materials depicting violence
Immoral or obscene articles and advertisements
Before preparing your international mailing, call University Mail Service for additional information on mailing rates.
Nonprofit Mail
A nonprofit mailing must contain at least 200 pieces and each piece must be of identical weight.
The authorized organization's name and return address must appear on the outside of the piece or in a prominent place on the material mailed.
Permit Usage
The University Mail Service holds a permit that enables departments to send out mail without affixing postage to each piece.
There must be at least 200 pieces of identical weight displaying the permit indicia.
We recommend that any departments using the university's permit process the mailing through the University Mail Service.
The postage of these mailings are paid on account with the U.S. Postal Service with funds provided by the University Mail Service.
You will be charged for the amount of postage used.
It is important to understand that any mailings done in violation of the U.S. Postal Service regulations under the permit may jeopardize UIC's nonprofit status and the permit may be revoked.
When using an outside vendor to process mail with the permit, the paper work must be submitted to the University Mail Service.
Business Reply Mail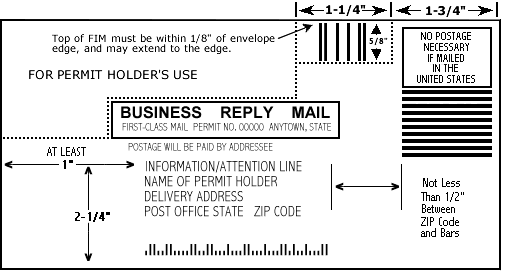 Business reply mail is available for sending business reply cards, envelopes, self-mailers, or labels.
Business reply mail allows the sender to receive first class and priority mail back from customers by paying postage only on those pieces being returned.
Business reply envelopes can be ordered through UIC Creative and Digital Services.